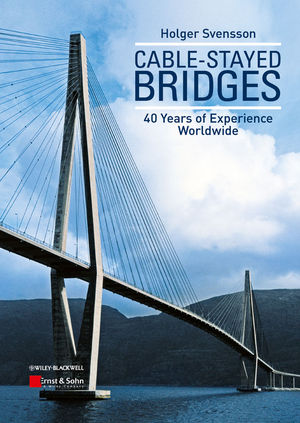 CABLE STAYED-BRIDGES
40 YEARS OF EXPERIENCE WORLDWIDE
Holwer Svensson
The need for large-scale bridges is constantly growing due to the enormous infrastructure development around the world. Since the 1970s many of them have been cable-stayed bridges. In 1975 the largest span length was 404 m, in 1995 it increased to 856 m, and today it is 1088 m. Thus the economically efficient range of cable-stayed bridges is tending to move towards even larger spans, and cable-stayed bridges are increasingly the focus of interest worldwide.
This book describes the fundamentals of design analysis, fabrication and construction, in which the author refers to 250 built examples to illustrate all aspects. International or national codes and technical regulations are referred to only as examples, such as bridges that were designed to German DIN, AASHTO, British Standards, etc. The chapters on cables and erection are a major focus of this work as they represent the most important difference from other types of bridges.
The examples were chosen from the bridges in which the author was personally involved, or where the consulting engineers, Leonhardt, Andrä und Partner (LAP), participated significantly. Other bridges are included for their special structural characteristics or their record span lengths. The most important design engineers are also presented.

INTRODUCTION
Design fundamentals
Design guidelines
THE DEVELOPMENT OF CABLE-STAYED BRIDGES
Predecessor bridges
Cable-stayed bridges with steel deck
Cable-stayed bridges with composite deck
Cable-stayed bridges with composite deck
Special cases
Locked coil ropes
Parallel bar cables
Parallel wire cables
Parallel strand cables
Corrosion protection
Manufacturing
Supervision
Cable anchorages
Cable dimensioning
Dynamic behavior of cables
Cable assembly and erection
Analysis of equivalent systems
Analysis of overall structural systems
Dynamic behavior of bridges
Protection against ship collision
Calculation examples
Examples
Analysis
Precast concrete decks: Pasco?Kennewick Bridge, East Huntington Bridge
CIP cable-stayed concrete bridge: Helgeland Bridge
Steel cable-stayed bridge: Strelasund Bridge
Composite cable-stayed bridge: Baytown Bridge
Bridges with hybrid decks: Normandy Bridge
Series of cable-stayed bridges: Millau Viaduct, Rion?Antirion Bridge

PROSPECT
LISTS
Bridges
References
Photo credits
APPENDIX ? 40 YEARS EXPERIENCE IN BRIDGE ENGINEERING WORLDWIDE
Personally
Bridges in Germany
Cable-Stayed bridges abroad
New developments resulting from competition participation
Checking of bridges
Technical Committees and Working Groups
Actual projects
Conclusion
DVD with LECTURE VIDEOS recorded at the Technical University of Dresden
Observaciones Junio 2012
Pag, 458 17x24
Euros. 150,00